It's not long now before we'll be leaving Bonaire. Our next major stop for any appreciable time will be in Cartagena, Colombia. For consideration has always been the possibility of stopping off in Curacao and/or Aruba along the way. Recently our thinking has been to bypass these islands. The trip to Cartagena from Bonaire is approximately 500nm. Getting there may take approximately 4 days. The winds north of 11-12 degrees north of the equator are usually reasonable for sailing but south of these latitudes we may slow down considerably. Stopping off at Curacao and/or Aruba will break the journey down but each one would add a couple of days to the trip. We're both looking forward to spending time in a capital city so the trade off doesn't seem worth it. (In fact, many folks make the entire trip as a series of day sails including around 5 stops along the Colombian coast) Our current thinking is to leave Bonaire this coming Thursday and sail direct to Cartagena.
With this in mind I have set up appropriate waypoints for our passage to and entry into the Bay of Cartagena. We don't have detailed charts on our main chart plotter for this area but as I have them elsewhere now I was able to transfer to coordinates from one system to the other. We are ready in that respect. The only remaining detail is the weather. We'll be keeping a close eye on forecasts over the next few days to ensure we don't run into any avoidable nasties.
Yesterday morning we moved the boat hoping to get a better internet connection. For a few minutes we did and in that time I managed to download all my backlogged email. I learned that our wind gen is on the way and due to arrive Tuesday.
I took in our dive tanks to be refilled. While there I inquired about second hand BCDs. There is one available and we may pick it up for when John is with us and for spares. I also discussed some of our recent dives and our inability to find any seahorses. I was told that there was one to be found right where we were anchored, supposedly amongst a pile of old rope on the shallow sands between us and the shore.
Back on the boat I decided to see if I could find this seahorse. True to form it eluded me but I did spot a turtle and was followed everywhere by a pack of tame sergeant majors and angel fish.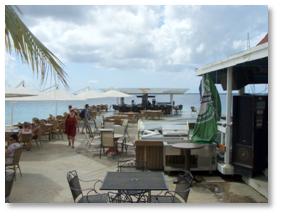 Just before noon, Helen and I went ashore to meet Oud from Alofa. She had a couple of things of ours to return plus a bottle of wine to say thanks again for the earlier assistance we gave. We met at the Cappuccino Bar at the end of a pier in town. We stayed together for a couple of drinks before separating.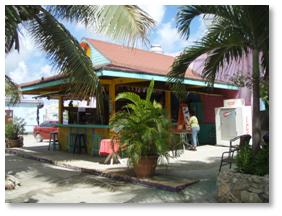 Helen and I walked around town taking pictures (for posterity) before stopping off for lunch at one of the restaurants. It was more of a Dutch fast food joint and I was dismayed when they delivered my fries with mayonnaise all over them. I should have remembered the Dutch do this.
We popped into the supermarket for some fresh veg and bread bumping into the Jacksters for the second time that day. Back on Dignity we both felt very tired so it was down to a couple of hours reading and resting. Allayne from Audrey Paige swung by in her dinghy letting us know they were off to Curacao soon and hoped to meet us there. Chances are our next meet up will be Cartagena. There plans are to take the day hop route but they should arrive before we leave. They also plan to be in the San Blas for Xmas so we'll probably meet up then too.
Today we're off diving again. Jacksters are again going to join us. We'll move Dignity south where we hope to dive on the Hilmer Hooker, a nearby wreck.