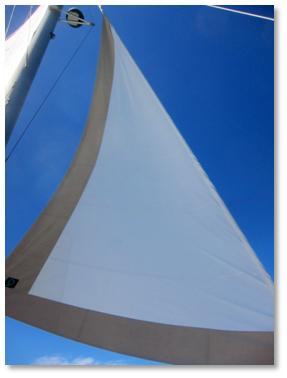 We had another lazy morning in before readying to depart the anchorage just before midday. The Jacksters did stop by as we had a bit more dive gear for them so another round of goodbyes were had.
The wind was in the high teens to low 20s and ahead of us so we were on a close haul all the way back. We put two reefs in the main and headsail as we knew we would be close to and indeed the apparent wind was occasionally as high as 30 knots though mainly in the low 20s. Again we were against the current as we left earlier than before and low tide was now nearly 3 hours later than before. Despite this we easily averaged over 7 knots over ground (over 8 through the water) and later were doing 8-9 knots over ground around low tide.
We passed west of Mud Island and then had to tack 12 times to sail into port. I loved it. Helen did too, sort of. After a while she wanted to motor in rather than keep tacking so she could clean the boat. I did not give in to this as this could well be our last sail and I was where I wanted to be.
In the end we made it back with time to spare. At the dock we were met by Niel from Attitude, Jan from Anthem, Cornelia from A Cappella and Don from Freezing rain who all stood by to help with lines. With 20 knot winds squeezing into the dock next to Attitude was a little challenging. I aborted early the first attempt and nailed it the second time. Piece of cake.

View 2012-12-12 Moreton Bay in a larger map
In the evening Sam came over. We went out for a buffet curry in Manly and were later joined by Rob from Bristol Rose who happened by by chance. We ended the evening walking with Sam to the railway station then returning to the boat when his train arrived.
Now we're back in the marina and back connected is back to our admin. We have one or two viewings coming up this weekend so want to be ready for those.
For your entertainment here is a video taken by one of the brokers and some pics of our time in the bay.