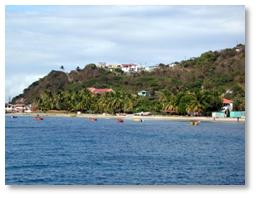 After feeling settled we went ashore to explore the area near the dock. We had heard that Petite Martinique has good prices for fuel, food and wine and with Martinique in the name we were not without some hope of something a little exotic too.
The diesel turned out to be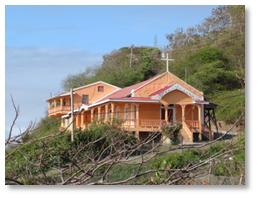 10% cheaper than Grenada but food/wine was neither bountiful, exotic nor cheaper than elsewhere. We picked up some basics (including some wine) and headed back to the boat.
After watching a couple of old TV shows we checked our position before going to bed. We had dragged 50ft since our last check. As it was dark we weren't going to reanchor unless it was a real emergency so we put out an extra 40ft of chain giving us 10:1 scope for the night. I also dug out my old portable GPS and set it beside our bed with an alarm set in case we moved too far in the night.
We were awakened before dawn to pouring rain, lightning, thunder and winds between 20 and 30 knots gusting higher at times. Fortunately our anchor had held firm overnight, there had been no further dragging.
As of writing the rains have stopped and the winds died down somewhat but the sky is still very grey and overcast. The forecast is for more of the same and more rain later. It is the rainy season after all. We had planned a walk around the island this morning before fueling and heading back to Carriacou. Not too sure about the walk right now.
Today is our 23rd wedding anniversary. There's a chance we'll spend it stuck here but hopefully we'll get away and have a nice meal out.
In the meantime, here are some pictures taken and digitally processed by John last Xmas, New Year.