Saturday morning was the shopping trip. We first dinghied ashore and walked around to New York Bagels only to find them closed on Saturdays. We kept on up to the main road where a bus had spotted us and was waiting, the conductor out on the street to hurry us on. We alighted at FoodFair and picked up as much as we could reasonably carry. So far we are minimizing the amount of frozen food we're buying as we have yet to turn on the freezer and relying only on the fridge/freezer. From an energy budget purpose we can power all our refrigeration, lighting, water making and computer usage from solar as long as we don't turn on the fridge.
Just after 1pm we picked up Jim from Bees Knees and made our way to the Caranage Café to be picked up for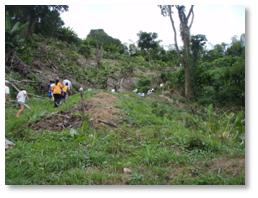 this weekend's Grenada Hash. The location was about 15 minutes further on the road we took to Seven Sisters Falls yesterday so the route was familiar. We were collected by one of the St Georges University student busses so we had plenty of room. On the bus we got to know Scott & Joalie (check) from "Excuse Me" and Richard and Laila from "Nebula". Scott and Joalie are avid wind kiters. It turns out we saw them (and they saw us) when we were anchored off Maria Island in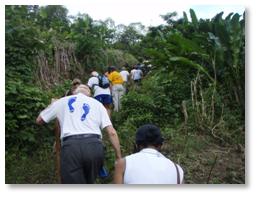 St Lucia. Also on the walk were Devi and Hunter from "Arctic Tern".
This hash was a lot more arduous than our first hash. It started with a steep climb with many having to take rests before reaching the peak. Even though we started around 4pm the heat and humidity did not help at all. Shortly after our steep climb we encountered an equally precipitous descent which was challenging in terms of trying not to fall on top of those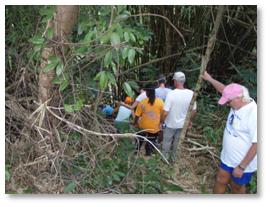 below and to avoid those tripping and falling from above.
For a while things got a little easier although the general elevation of the walk seemed to be climbing inexorably upwards. We were presented with one or two 'choices' in route but given our position in the pack it was always obvious which was the wrong turn. I ended up losing Helen and catching up with Jim and when we were presented with the choice between the 'Runners' path and the 'Walkers' path we chose to walk the runners path as it offered more views and even though we were walking,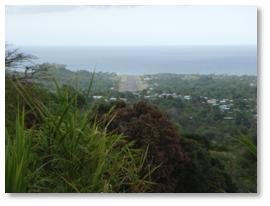 we had a good pace.
We were treated to plenty of great views although from talking to Helen, who took the walkers (shorter) path they saw most of the same. We saw the old airport strip and beautiful lush valleys. High up we walked through a village with a partially built church with palm trees outside painted Caribbean style.
Eventually, all the climbing was made up with even more precipitous descents than encountered earlier. I managed to slip down a bit. One chap behind me lost his footing and somehow flew down the slope turning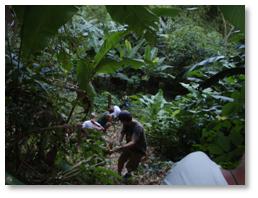 and twisting without falling. The 'path' we were on turned into a short jungle trail before following a rocky brook where we could avoid getting our feet wet hopping from rock to rock. We eventually made it down to river level where Jim and I caught up with Helen who had got ahead of us by taking the shorter route.
The walk followed the river for a while past thick rainforest and clusters of bamboo before coming within a couple of hundred feet of our destination: rest, food and beer. Our hopes were lifted only to find there was no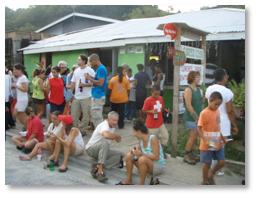 direct route to our destination and it was back to hard climbing (and slipping) and descents through plantation.
We did finally make our destination. Many were pretty exhausted from the ordeal. The beer, BBQ chicken and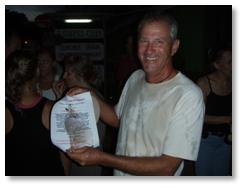 oil down (local food) was most welcome. At the 'devirginizing' ceremony Jim was welcomed into the Grenada Hash and received his certificate as well as a liberal coating of beer.
After feeding and lubrication it was time to reboard the university bus.
As luck would have it the bus drove right by Grenada Marine where we had left the dinghy so our trip home was not only simple but also free – a cruisers delight. We dropped of Jim back at Bees Knees and it was back home to Dignity to rest though not before watching the first episode of the recent series of 24.
Here follows the slide show from yesterday with more pics than shown above. A reminder that if you click on the slide show you will be taken to the Picasa website where you can see the pictures much larger.