Yesterday was a public holiday in Trinidad – Emancipation Day. I had asked locals in stores earlier in the week if anything special would be happening and no one seemed to know. The best I got was that something maybe happening in Port of Spain but not around here. We were also told that shops are likely to be closed.
We debated our original idea to take the bus into Port of Spain as we didn't want to go all the way there and find nothing open. We never really came off the fence on this one but we thought it was worth a try. Once in the dinghy we first went over to see Diane and Gerald on Whiskers who had arrived a couple of days ago. We chatted for a while and agreed to meet up at Sails in Power Boats for beers later in the evening. A steel band was due to play and we were hoping to have a good atmosphere. They were also of the opinion that not a lot would be open in town.
We then popped round to Freya of Clyde to talk to Anne and Alan. They had a map to lend to us which we picked up. Again – another chat about things. We talked of our plans and they pointed out the busses would likely to be infrequent too. That kind of did it. We had a plan B which was to go for a walk so we decided to do that.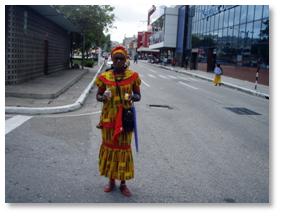 As we walked along the main road, two local busses passed us by. This was hardly infrequent so we decided to catch the third into Port of Spain. When we arrived we found our bearings and headed off into the center of town. It didn't take long to realize there something was happening. We came to a corner and there were some men and women in bright African clothing, all the same.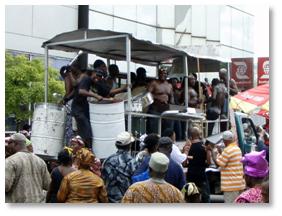 Soon we realized there was a parade on. We had no idea of the size of it. Some of it had already passed by but we stood our ground to watch what was left of it. This parade put the carnivals we have seen in Dominica and Bequia to shame. I was glad I had pocketed my small camera so we could record the occasion.
There were floats of many kinds. There were a number with deep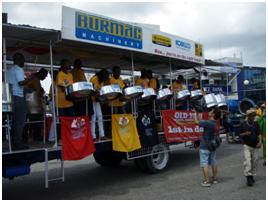 booming drums being beaten intensely by enthusiastic drummers. There were trucks with 20 piece steel bands with bands both young and old all well practiced.
Almost every truck was themed in some manner. Some being themed by a local association or church, some going back to African roots. Practically all were followed by throngs of colourfully dressed crowds enjoying the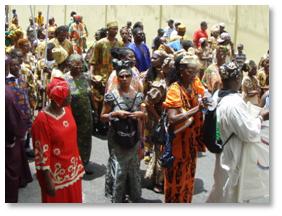 music and occasion.
It didn't take long before the end of the procession passed us so we walked further into town only to come upon the front of the parade which had looped back along a parallel street. This allowed us to see the rest of the parade that we hadn't seen before. There were a couple of trucks with the immense speakers stacks that would send our clothes and eardrums vibrating (as we'd seen further up the islands) but fortunately they were the minority – the rest being live music.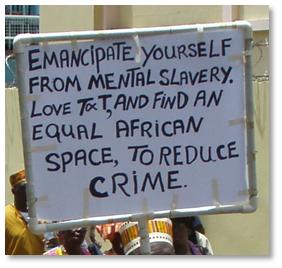 In all we must have spent over two hours watching the parade. It was such a pleasant surprise. We wondered why no one had told us of this and why none of the cruisers, some of whom had been coming here for years, knew about this. Perhaps this was a personal thing and it's not advertised broadly for tourists to come and see. Who knows? We felt privileged to be part of such a wonderful celebration.
We then wondered around for a while zig-zagging through the streets at random. Many of the shops were indeed closed but a few were open. We didn't go in many but the cold air conditioned air pouring out of some was very welcome. We had lunch in a Chinese restaurant. Every takeaway had solid bars between the eating area and the cooks as if they were in jail. This was a reminder that crime is an issue here in Trinidad. The meal was a little bland but we had huge plates of food for about US$4 each, including a large soda. Not bad.
After lunch we were worn out so we headed back to the bus station via a supermarket where we shopped for some essentials and, by luck, a street market with lots of fruit for sale. On the way back we were again deluged by rain but not for long. By the time we arrived in Chaguaramas, the rain was mostly behind us.
Back on Dignity we were set for a rolly time. Not only was the swell coming in and making the bay choppy, the hoards of power boats coming in and out were creating immense wakes. A few were respecting the anchorage but they were the minority by far.
I did do a little more work on the batteries. I used my mini blow torch to heat the lids where they needed to bend around the cables. It wasn't often pretty but it worked. Now all four lids sit snugly on the batteries. Port side fully done.
In the evening we went ashore to Sails for beers and a plate of chips. We sat down with Carol and John from Sweet Caroline and another cruising couple from Sail Away. We were soon joined by Diane and Gerald from Whiskers. We were also joined by Gary and his wife from Inspiration Lady. We've crossed paths before in Grenada. We didn't get much time to talk but hopefully we'll bump into them again in our travels. It looks like they are aiming for a Panama crossing around the same time as us.
We invited Diane and Gerald back to Dignity for a final Rum and Ting. On the way out we passed the Freya's who we'd not had much of a chance to talk to in the evening. We had a pleasant time aboard with the Whisker's. A late night to bed was the result.
This morning the weather looks fine. We need to goad ourselves into getting to work on the starboard side drive bank. The plan today is to remove the battery cabling, lift out the six 8D batteries and remove the boxes and all straps and dowels. We'll then clean up the locker before redoing the dowels and straps and putting some wood filler to cover some burn marks left by some welding that was done before Dignity was originally delivered. If the wood filler sets sufficiently we'll place another 12 of the 6V batteries into the boxes ready for cabling tomorrow. We still ache so we're not looking forward to this work at all.