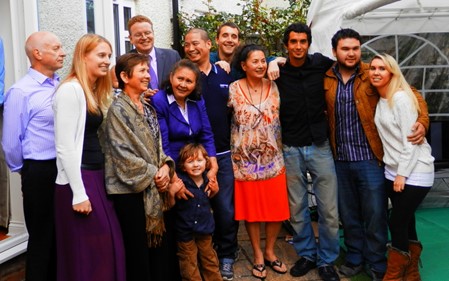 On Saturday at about 2.00 pm. I looked around my kitchen diner and out onto my garden and thought this is amazing. The marquee was up, the tables and chairs all laid out, the food overflowing and beautifully displayed, the music system all set up and the walls covered with tributes and messages for Steve. It was warm and the sun even peeped out. Members of my family had been around for hours, working away and getting everything prepared for the celebration. There were lots of noises, talks and laughter as we worked. I remembered how much Steve use to love these family get together.
Our son Ben and his new wife Amy had arrived that morning from New York and Steve's mother and sister a few days before from South Africa, so all the immediate family were here.
Before Steve died we had talked about funerals and he was very clear about what he didn't want and wanted. He wanted a non-religious Celebration of Life and I remember him mentioning that the Humanist Association had good ideas for celebrations. While looking through Steve's laptop, I notice that he had booked marked The British Humanist Association and there was a page of local celebrants. I contacted a couple of them and was fortunate to find one free for the 28th of September.
With the help our celebrant Ray, I was able to structure a ceremony for Steve.
The ceremony started with everyone gathering and sitting down to "Your Song" by Elton John, which was mine and Steve's song and significant to a particular memorable occasion which is briefly recounted by Ben in his speech.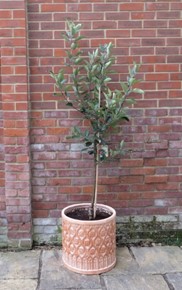 Ray then welcomed everyone, giving a short introduction and a brief biography of Steve
Steve's sons Ben, Sam and John each recounted memories of their dad (which I will publish in the next blog.)
Steve's mother Norma and sister Sue then gave their amusing account of Steve in his youth
Ray read out a couple of tributes from the many many tributes sent by friends across the seas.
Ray then recounted some of my memories.
We had about 30-40 seconds of silence in quiet reflection
We all joined in as Sam sung and played on the piano "Imagine" by John Lennon
Ray gave the closing words
To the music: "Dignity" by Deacon Blue, I planted Steve's apple tree, pouring his ashes with the dirt, joined by his Ben, Sam and John.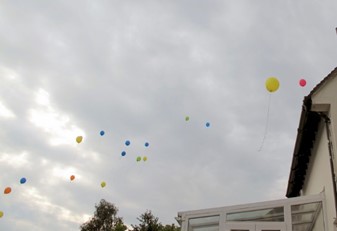 Finally we released 49 biodegradable balloons into the sky. Each of the balloon released by a friend or member of the family. One for each year of Steve's life. The ones that Ben, Amy, Sam, John, Norma, Sue and myself released had a small amount of his ash in it.
Then we celebrated with plenty of food and drinks. It was a lovely ceremony and day. Steve would have approved.
I know I said, I would write a tribute to Steve but I have just not found words good enough to do him and my feelings justice. Maybe in the future after I have read through his blogs, I will write a book on our adventures and that will be a tribute to him.
All I can say for now is that he was the best husband, the best father, my best friend and my best love.
Steve, I love you and miss you desperately.