About Dignity
We are Helen and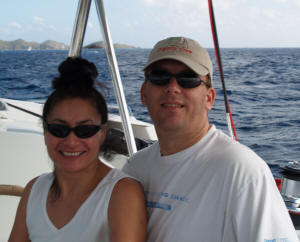 Steve Southwood. In October 2008 we moved aboard Dignity, our Lagoon 420 and began our travels.
For a long time our dream has been to travel the world. A couple of years into the new millennium we decided to do our travelling by sailboat. In 2005 we bought Dignity. Dignity is hull #20 off the Lagoon 420 assembly line. She was launched on April 23rd, 2007 and was in service in the CatamaranCo charter fleet for her first year before we moved aboard.
Recent Website Changes
March 1st, 2012
Removed references to Hybrid. Note: once we've had some experience on the new diesel motors I'll write a section on our thoughts about our hybrid experience and a comparison to the new system.
April 28th, 2011
Removed outdated links page and updated Connections. Updated Specs page to include modifications to boat. Added tracks for Pacific Crossing to Route page.
February 16th, 2010
Revamped and brought Route page up to date.
Changed Photos page to list 10 most recently published photo albums.
Number of visits since October 25th, 2008

"The Journey of a Thousand Miles Begins With a Single Step"