We had a fairly slow morning rising due to the night before. The coconut telegraph at 8am was the final reason for getting up. To our delight we heard that Inspiration Lady and Jackster had both arrived in Bonaire. They had bypassed the Aves on the strength of a forecast of little or no wind the following day. As it was they had had to motor a lot of the way from Los Roques. We soon had contact on the VHF and agreed to meet up for sundowners in the evening – the second in a row for us.
Next we had a trip into town for some provisioning. We also swung by the Budget Marine to see if the dive map had arrived. It hadn't. They suggested coming back today. We'll see.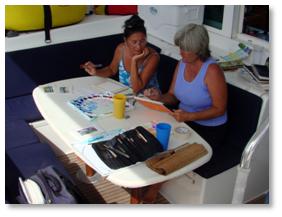 Then it was down to some serious hammock lying and reading until lunch. After lunch, Teri from Sea Otter came over to give Helen a water colour painting lesson. Teri spent 2½ hours with Helen showing her the basics and some different techniques for achieving different effects. The result, we all thought,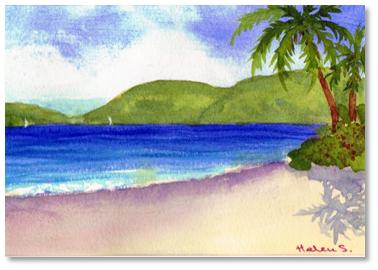 was pretty good. A combination of good teaching and talented student perhaps.
Sea Otter are heading out today. They will make their way to St Thomas where Teri will paint some more and sell her paintings to the tourists. She makes enough money this way to feed them for the following year. Teri kindly left Helen some of her old paints to keep going.
By the time all was packed up it was time to have the Jacksters (Jackie and Dave) and the Inspiration Ladies (Jackie and Gary) aboard for a fine evening of conversation, nibbles and the odd beverage. We all have rough plans of making it to NZ by the end of next year. It was good to catch up with them and learn of their travels and recent experiences.