We had a pretty active day here in Roturua. In the morning we visited the Te Puia Maori cultural experience. The place was set on a plot of thermally active land. We arrived well before our prebooked 10:15 cultural show so we spent a little time walking over to their main active geyser. We saw it erupt in clouds of steam and mist. To our surprise rather than explode in one big column of water it went on for quite some time. In the end we had to leave for the show before it had finished.
The show was interesting but not astounding. I think part of it is because the maoris here are a long way removed from those who performed the dances and rituals we were shown. Nevertheless we got to see how one village would approach and greet visitors, some singing and dancing including some audience participation huka dancing.
After the show we were given a guided tour of the complex. We were shown where they keep their arts of carving and weaving alive. That was pretty interesting. They had a nocturnal kiwi exhibit where we saw a pair of the strange birds moving around in an artificial night time habitat.
After a stop at a mud pool we were taken to the geyser we had seen earlier. Here we learned that if we stayed longer a second and larger geyser would eventually erupt. So stay we did and were rewarded with a finer display. The overall eruption seemed to take about half an hour.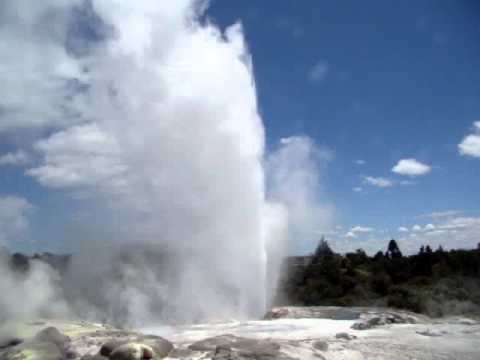 We didn't have long before our afternoon activity. We grabbed lunch and our swimming clothes before heading out of town to Waitiaki White Water Adventures for our cruise down a local class 5 river. This turned out to be a huge amount of fun. 23 tourists in 4 inflatable rafts with professional guides both in the rafts with us and in kayaks ahead of us went down 13 rapids and 3 waterfalls, the largest being a 7 meter drop. We had to work by paddling forward and backward on instruction and when necessary jamming ourselves down into the raft for the big drops. Towards the end we were allowed in the water to float down one of the rapids which added to the fun. On two occasions we paddled back into the rapids to bury the nose of the raft into the water flooding the front section making us all very wet. This was all funded by Helen's missed sky dive so we all ended up happy.
Today we're heading back to Whangarei. We spotted a 3D maze on the way back yesterday which we're keen on doing today. So it's off to breakfast and packing up the camping gear. When we get back to the boat I have plenty of pics to upload.